Crawl Space Repair & Encapsulation in Greater Clearfield
Crawl space repair products such as vapor barriers, support jacks & more
If you've noticed your crawl space is beginning to grow mold, or smells musty and appears very damp, it's time for some repairs. Bowman Masonry & Waterproofing is a full service crawl space encapsulation contractor in Greater Clearfield. We focus on creating a dry, healthy space in your crawl space.
We offer state of the art products such as vapor barriers and thermal insulation to help keep your crawl space in good condition. We also offer structural repairs for your crawl space, allowing the rest of your house to be safely supported and functioning together as one stable unit.
Our crawl space repair and encapsulation services are available throughout Altoona, State College, Bellefonte, Du Bois, Saint Marys and areas nearby. Contact us today to see what Bowman Masonry & Waterproofing can do for your crawl space!
Symptoms of a crawl space problem
Drywall cracks in the interior
Uneven floors
Foul odors in the home
Heightened allergies or asthma symptoms
Crawl space repair can keep your crawl space in sync with the rest of your home, creating a healthier living space altogether. We focus on providing the right methods needed to properly encapsulate your crawl space keeping it free of mold, moisture and other properties that can damage it.
Crawl Space Repair: Before and After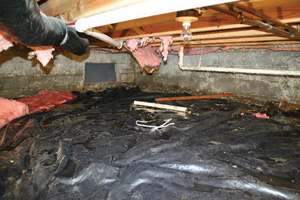 Moisture, mold and falling, failing insulation are problems in this crawl space, which hasn't been properly sealed.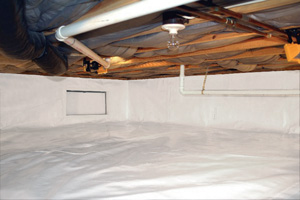 The encapsulation treatment totally separates and protects the crawl space interior from outdoor conditions, keeping the space clean and dry.
Bowman Masonry & Waterproofing is your local choice for crawl space encapsulation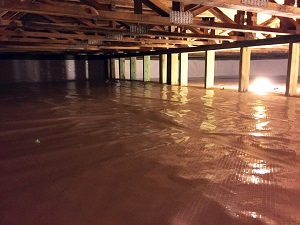 All-size solutions. The CleanSpace® Crawl Space Encapsulation System can provide moisture control for any size crawl space.
As an authorized Basement Systems® dealer, Bowman Masonry & Waterproofing have access to over more than 30 patented products designed to keep your crawl space healthy and usable. Our crawl space solutions are the most reliable throughout Greater Clearfield.

Call us at 1-844-385-9894 or contact us online by filling out a free estimate form to have your crawl space inspected today. Our services are available in all of Greater Clearfield including: Altoona, State College, Bellefonte, Du Bois, Saint Marys, Pennsylvania Furnace, Brockway, Port Matilda, Tyrone, Ridgway, Kersey and nearby!
Looking for a price? Get a no cost, no obligation free estimate.