Expert Concrete Resurfacing in Greater Clearfield
We can transform cracked, discolored & unsightly concrete into a new & beautiful surface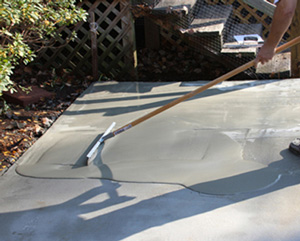 From ugly to beautiful. Old, worn concrete can be made new again with proper resurfacing treatment. Photo courtesy of SAKRETE®.
Old concrete can look ugly – marred by stains, cracks, spalling and other surface deterioration. This kind of wear and tear can occur in areas such as driveways, sidewalks, patios, pool surrounds and slab floors. Fortunately, there's a way to give new life to old, deteriorated concrete, with resurfacing services from Bowman Masonry & Waterproofing.
We are Greater Clearfield's experienced concrete repair and resurfacing specialists. If you live in Saint Marys, Bellefonte, Altoona, State College, Du Bois or nearby, give us a call or contact us online for an appointment and quote today!
Resurfacing saves time & money
Worn, damaged concrete used to be demolished and replaced by entirely new concrete construction. However, this method is costly, destructive and very disruptive. Nowadays, contractors restore and resurface concrete instead of repouring it.
Our technicians at Bowman Masonry & Waterproofing are trained to resurface old concrete that is structurally sound, instead of totally replacing it whenever possible. Resurfacing eliminates the noise, mess and heavy equipment required for concrete demolition. It keeps most of your existing concrete in place, providing a base for the new concrete surface we create.
Choose from an exciting array of resurfacing options
With expert resurfacing services from Bowman Masonry & Waterproofing, you can do much more than duplicate concrete's original appearance. This is a great opportunity to upgrade the appearance of your concrete. We can create different colored effects with tinting and staining treatments and even offer concrete stamping techniques to add curb appeal to your concrete surface.
We also offer rubber concrete resurfacing, which can be sprayed over the existing concrete slab to prevent slipping and create a smooth, non-skid surface. Rubber resurfacing is waterproof and durable, sealing any cracks in the concrete making it safe and long-lasting.
Contact us for a free estimate on your concrete resurfacing
Bowman Masonry & Waterproofing doesn't want you to suffer with ugly, damaged concrete that is unsafe. Take advantage of the cost efficient method of resurfacing concrete for a restored, safe concrete slab.
Contact our experts today to schedule a free on-site consultation. We offer free estimates to residents of Altoona, State College, Bellefonte, Du Bois, Saint Marys, Kersey, Port Matilda, Tyrone, Pennsylvania Furnace, Ridgway, Brockway and surrounding Pennsylvania areas.
Looking for a price? Get a no cost, no obligation free estimate.